Updated Severe ThunderStorm Warning from BOMSevere Thunderstorm Warning for L…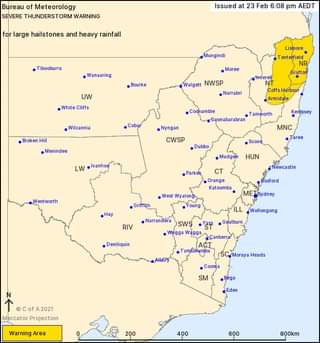 Updated Severe ThunderStorm Warning from BOM
Severe Thunderstorm Warning
for LARGE HAILSTONES and HEAVY RAINFALL
For people in Northern Rivers and parts of Mid North Coast and Northern Tablelands Forecast Districts.
Issued at 6:08 pm Tuesday, 23 February
2021.
Weather Situation:
Severe thunderstorms are likely to produce large hailstones and heavy rainfall that may lead to flash flooding in the warning area over the next several hours. Locations which may be affected include Lismore, Grafton, Tenterfield, Yamba, Maclean and Dorrigo.